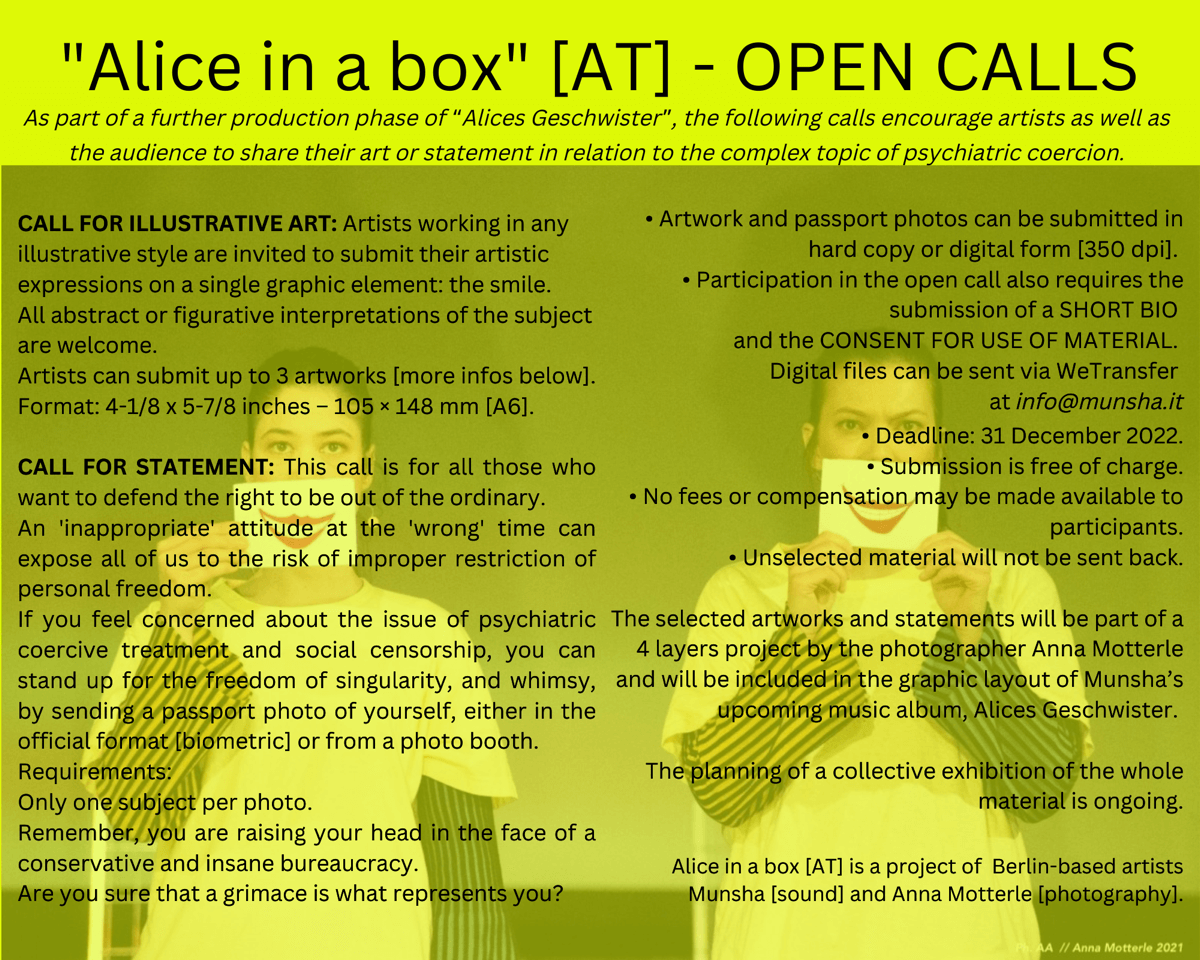 Alice in a Box
Open Calls for the next project by Munsha and me
Magic duo back together after The Other Cathedrals for a quite different project. Based on the play by Munsha "Alice's Geschwister" we are seeking the participation of both illustrators and people with some experience of psychiatric treatment to join us for a multi-layered project about freedom. The freedom to be out of the ordinary.
For more Info and to send your contribution: INFO@MUNSHA.IT
Here are the open calls:
As part of a further production phase of the Alices Geschwister, the following calls encourage artists as well as the audience to share their art or statement in relation to the complex topic of psychiatric coercion.
CALL FOR ILLUSTRATIVE ART: Artists working in any illustrative style are invited to submit their artistic expressions on a single graphic element: the smile.
All abstract or figurative interpretations of the subject are welcome.
Artists can submit up to 3 artworks [more infos below].
Format: 4-1/8 x 5-7/8 inches – 105 × 148 mm [A6].
CALL FOR STATEMENT: This call is for all those who want to defend the right to be out of the ordinary.
An 'inappropriate' attitude at the 'wrong' time can expose all of us to the risk of improper restriction of personal freedom.
If you feel concerned about the issue of psychiatric coercive treatment and social censorship, you can stand up for the freedom of singularity, and whimsy, by sending a passport photo of yourself, either in the official format [biometric] or from a photo booth.
Requirements:
Only one subject per photo.
Remember, you are raising your head in the face of a conservative and insane bureaucracy.
Are you sure that a grimace is what represents you?
• Artwork and passport photos can be submitted in hard copy or digital form [350 dpi].
• Participation in the open call also requires the submission of a SHORT BIO and the CONSENT FOR USE OF MATERIAL. Digital files can be sent via WeTransfer.
• Deadline: December 31, 2022.
• Submission is free of charge.
• No fees or compensation may be made available to participants.
• Unselected material will not be sent back.
The selected artworks and statements will be part of a 4 layers project by the photographer Anna Motterle and will be included in the graphic layout of Munsha's upcoming music album, Alices Geschwister.
The planning of a collective exhibition of the whole material is ongoing.
Alice in a box [AT] is a project of the Berlin-based artists Daniela Lunelli aka Munsha [sound] and Anna Motterle [photography].